Programs to foster engineering professionals for the world stage
International Engineering Student Enrichment Fund
As the United Nations has recently stated in its Sustainable Development Goals (SDGs), our world is facing a mountain of increasingly complex challenges – in areas such as food security, the environment, and natural resources and energy – that cannot be expected to be resolved unless they are tackled by humanity as a whole. To address these challenges, the School of Engineering at the University of Tokyo is under obligation to produce a large number of knowledgeable professionals possessed of the basic skills, advanced scientific and technological expertise, high-level insight and ethics, international outlook, and ability to act proactively in the public interest to tackle these complex and intractable issues.
In order to realize the above mission, the cultivation of an international mindset will be particularly important. To that end, our School has decided to expand our internationalization program for students by intensifying the dispatch of our students overseas and accepting more international students. In doing so, we hope to facilitate more active interdisciplinary and cross-cultural dialogue and collaboration, and to use this knowledge to train talented professionals able to play an active role in various spheres of society.
For this reason, the School established the International Engineering Student Enrichment Fund and has decided to invite donations from the public. We hope that you will affirm the spirit of this fund by supporting us in our efforts to enhance our internationalization program.
How Your Donations Will Be Used
Your donations will be used primarily to support the following activities and projects.
1. Sending students abroad
(1) Expanding our international student exchange program
We will utilize our network of more than 100 partner universities to promote the dispatch and acceptance of large numbers of exchange students.
(2) Visits to Indian Institutes of Technology and local companies
Through exchanges with the Indian Institute of Technology Delhi and neighboring companies and other organizations, which produce highly skilled personnel who work in companies around the world, this program provides students with opportunities to directly experience India's rapid growth.
(3) A short-term study program at a major Australian university
This program provides undergraduate students with opportunities for overseas experiences that go beyond just language study.
(4) Self-directed overseas training
This program is designed to give students the opportunity to initiate, plan and execute their own research by enabling them to arrange their own visits to present their research findings at prominent overseas laboratories, and to receive feedback from leading experts in their respective fields.
A student presents her research at an overseas university (Self-directed overseas training)
2. Supporting international students
(1) Engineering Summer Education Program (ESEP) at the School of Engineering, UTokyo
In this program, students from our partner universities overseas are accepted for short-term stays at a UTokyo laboratory. This will help them to improve their skills and form personal networks, as well as highlight the appeal of the department and laboratory through opportunities such as high-quality research guidance, which in turn will lead to the admission of outstanding students to our regular courses.
Students participating in ESEP
(2) Scholarships for international students
We will expand the scholarship system so that promising privately funded international students will be able to devote more time to their studies.
(3) Japanese language education
The implementation of a Japanese language education program that ensures the quality of education will help us attract outstanding international students.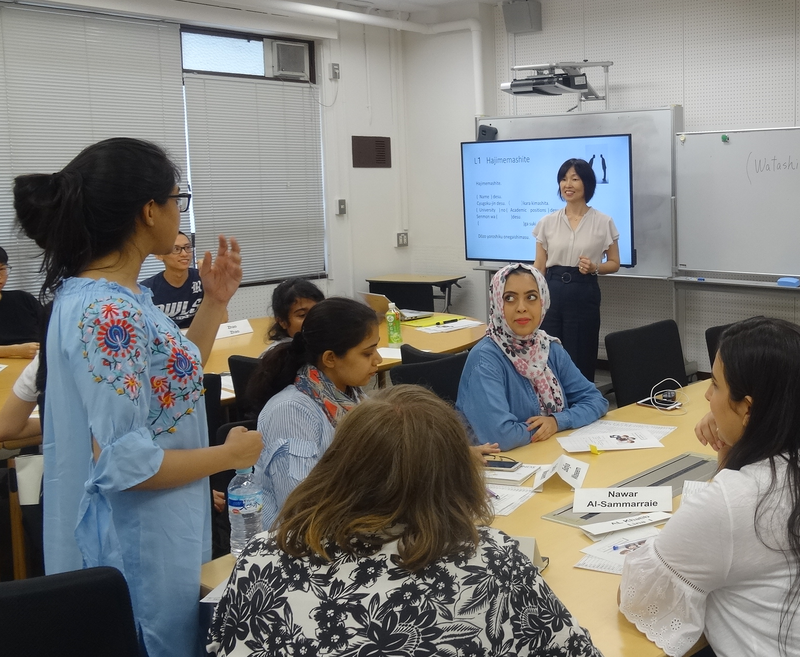 Scenes from a Japanese language classroom
3. English-language instruction
(1) Special English Lesson (SEL)
We offer practical preparation for discussions at international conferences and TOEFL courses for those pursuing overseas study.
(2) English writing classes
These classes help students polish their English presentation skills, enabling them to submit to English-language journals.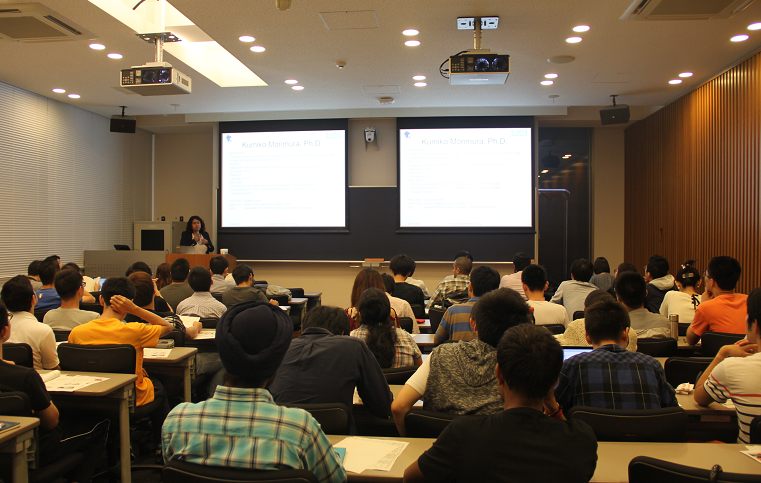 Scenes from an English-language writing class
(3) English wRIting Consultant (ERIC)
Trained UTokyo international students offer one-on-one advice on how to compose English-language papers, reports, and the like.
(4) On-campus exchange activities
The International Lounge provides a place for international and Japanese students to share interactions revolving around each other's linguistic, cultural, and social backgrounds, as well as gain experience in communicating to arrive at mutual understanding with others from diverse backgrounds.
A scene at the International Lounge
4. Comprehensive exchanges
We are also looking into practical comprehensive exchanges (i.e., research and educational exchanges) with specific universities, and expect to intensify the dispatch of students overseas and the acceptance of students from abroad based on research exchanges with faculty members with the goal of helping to cultivate knowledge professionals in engineering fields.
Inquiries about the Program
International Affairs Division, Department of Engineering,
Graduate School of Information Science and Technology, The University of Tokyo
7-3-1 Hongo, Bunkyo-ku, Tokyo 113-0033, Japan
Phone: +(0)3-5841-0857
E-mail: k-kikaku.t [at] gs.mail.u-tokyo.ac.jp
Related Links
Institute for Innovation in International Engineering Education website
The University of Tokyo Graduate School Information Science and Technology website
Project Leader
Professor Yuji Suzuki,
Director of the Institute for Innovation in International Engineering Education,
School of Engineering,
The University of Tokyo