Empowering More Women as Leaders for the Next Generation
Satsuki-kai Scholarship Fund
Satsuki-kai, the Alumnae Association of the University of Tokyo, celebrated its sixtieth anniversary in 2021. The first female student matriculated at the University of Tokyo in 1946. Now, more than seventy years later, the proportion of female students still remains low.
The Satsuki-kai Scholarship was launched in 2013 with the goal of encouraging more women to take leadership roles in the next generation by encouraging applications to the University of Tokyo by female students – particularly those from rural areas, who are presumed to face more significant financial obstacles – and providing financial and emotional support once they arrive at the University.
We hope that the Satsuki-kai Scholarship will serve as a beacon of hope for outstanding female students who, for one reason or another, would otherwise have to abandon the prospect of attending the University of Tokyo. We would like to ask for your generous support.
In addition, because of its position as a Learning Support Program that began in August 2016, donations to this fund are eligible for a tax credit when filing your tax return.
Satsuki-kai Scholarship Overview
This scholarship considers applicants from among the female applicants to the University of Tokyo who are unable to live at home while attending the University and are in need of financial support. The scholarship will be awarded for four years after admission (i.e., for the standard term of study for undergraduate students; six years for students in a six-year program), and provides several students with a monthly stipend of JPY 50,000, which does not need to be repaid. The committee will evaluate the state of the donations and the effectiveness of the scholarship as necessary to consider the details of this program and its continuation.
Message from the Executive Vice President
As part of its efforts to develop a support system that will enable a diverse range of students to play an active role in further improving world-class research and education, the University of Tokyo is extending its support for female students for whom commuting from home to attend the University would not be feasible. In this sense, the Satsuki-kai Scholarship represents a very important support program for our female students.
The Satsuki-kai Scholarship began accepting donations in 2012. Thanks to your generous support, in addition to our traditional pre-enrollment reserved scholarship format, we began accepting applications on behalf of the current UTokyo students from the 2016 academic year. We would like to express our sincere gratitude to everyone who has supported the Satsuki-kai Scholarship Fund to date.
As we encourage even more female students to pursue higher education and study to give women the opportunity to play more active roles in society than ever before, we look forward to your continued support and cooperation.
The University of Tokyo Satsuki-kai Scholarship (About the Scholarship Program)
Satsuki-kai, an Alumnae Association of the University of Tokyo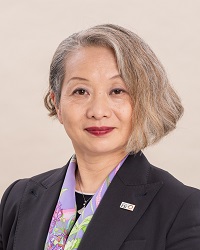 Project Leader
Yuko FUJIGAKI
Executive Vice President
The University of Tokyo